Changing the Reputation of the Moving Industry One Relocation at a Time
K & J – Your Moving and Storage Professionals
Packing & Crating Services
Office M-F 7:30-4:30 Flexible Moving Hours
Get an Estimate
Call, click or email K&J to get a FREE, no-obligation quote. We are here and ready to get you moving.
Plan Your Move
We can pack, you can pack, however you'd like. Once a date is picked K&J will be ready.
Schedule Your Move
Let's get it on the calendar and get you to your new Home, Office, storage facility or landing spot.
Personalized Services For Every Type of Move
We don't assume moves are one-size fits all. So let's discuss your needs, make a plan that is right for YOU, and get you on the road to a successful move.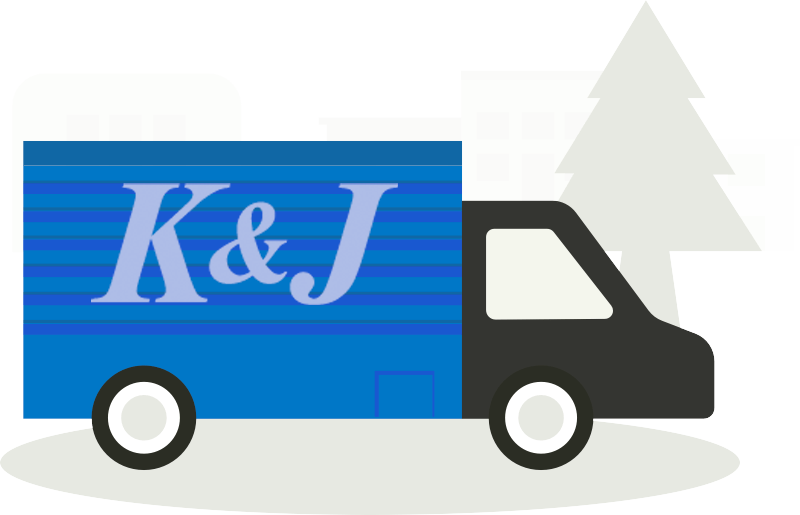 Amanda was great to work with from start to finish.  Even though K&J was super busy, she managed to fit us into the schedule.  Amanda sent me all of the paperwork in advance, including a breakdown of the estimated cost.  On the day of the move, the moving crew arrived on time and got right to work.  They were efficient, respectful, and, most importantly, careful with our personal belongings.

Outstanding service, everything was transparent from start to finish. Amanda was fantastic to work with, as our move date shifted multiple times and she was always ready and eager to accommodate. 
Highly recommend to anyone that wants to have a reliable mover to put your mind at ease during what typically is a stressful process

This is a great company.  They were right on time,worked very fast and made sure everything was done right.  They were curtious and helpful.  There prices were extreamly fair with there price and no hidden charges. They moved our house in record time. I would definitely use them again.
Get in Touch
(707) 224-8200
kjmoving@live.com
Office Hours
7:30am-4:30pm. M-F
Our Office
6400 Broadway St. (Hwy 29)
American Canyon, CA 94503